Keep calm…
Congratulations, if you successfully passed the theoretical examination! Soon, you will get to the pracitcal examination.

Do not panic now. we will prepare you thoroughly for your exam, so that you will successfully pass your practical examination just as your theoretical exam. A good education is the safest ground for passing the driving test.

We will only finish your education if you passed all levels of the diagram card according to the curricular guideline for the practical education.

You and your driving instructor mutually decide when the right time is for you to take your practical driving test. The practical examination can first be passed at the age of one month under the minimum age.

Most students say that the theoretical examination is more difficult than the practical one.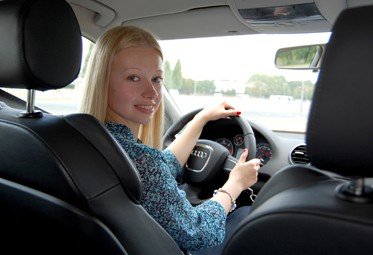 Tips:
- Wear appropriate clothes and shoes making you feel comfortable
- Keep calm and trust in your preparation
- Try to be punctual
- Do not hesitate to ask the examiner to repeat himself if something is not clear to you
- Trust in the examiner as one being on your side and wanting your success as well
- There is no examination without mistakes, but you will always have the possibility to correct them
- Do not evaluate your own driving during the test, it will only make you nervous

Notes:
You will need the following documents:
- Your ID card / passport
- The receipt of your paid fee
- The certificate stating your attended theory lessons (Exception: you do not need this if you let your license be transferred, or if you repeat the examination)

Good Luck!