Accompanied Driving at 17
Accompanied driving at 17
The statutory regulations of the Fahrerlaubnisbehörde allow you to pass your license at the age of 17 (FeV, §48a).

At the age of 16 and a half, you can however come in and register for the license class B or BE, however your parent or guardian must then sign a declaration of consent.

The accompanied driving course is similar to the standard license available from the age of 18, and is made up of a theoretical and a practical examination. Your license cannot be handed out to you before you turn 17, even if you finish early. You may complete the theoretical exam a maximum of 3 months before your 17th birthday and the practical exam a maximum of 1 month before your 17th birthday. The permit you obtain includes the name of your (1-5) legal accompanying persons and enables you to drive a motorcar, in which you must be accompanied. This permit may only be used within Germany and Austria.

After your 18th birthday, you simply exchange your permit for a license at your local authority responsible for driver's licenses. The permit expires three months after your 18th birthday.
Requirements for the accompanying person:
You must name at least oneaccompanying person, which must fulfill the following requirements. A maximum of five accompanying persons can be included in your permit.

1.The accompanying person must be at least 30 years old. He/She must be included in your permit; persons not included in your permit are not allowed to accompany you.

2. He/She must have had a class B driver license for at least five years.

3. The accompanying person must not have more than one point on his or her license.

4. He/She must not exceed the 0,5 ‰ alcohol level and must be drug-free.

5. The accompanying person must not interfere while the minor is driving; his/her role has to be regarded as advisory.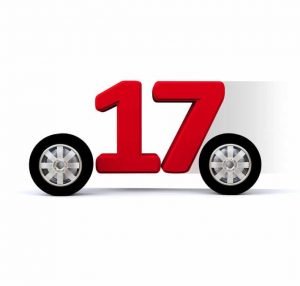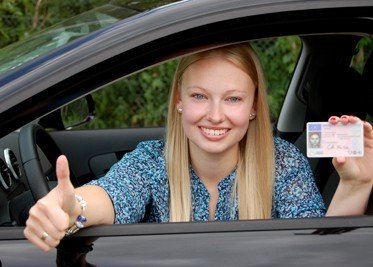 Application at the Road Traffic Licensing Department
In order to successfully put in your application at the Road Traffic Licensing Department (Straßenverkehrsamt), you need the following documents:

1. An ID Card or Passport including a proof of residence
2. A biometric Passport Picture (35 x 45mm)
3. An eye test certificate (max. two years old)
4. Proof of a successfully completed first aid course
5. An application fee (52,10€) + 5,10€ for each accompanying person you want to register
6. The training contract of your driving school

In regards to the 2-4 weeks of processing, we advise you to hand in your documents as early as possible in order to guarantee the completion of the paper work before your examination.
An application for accompanied driving additionally requires the following documents:
by the student:
1. A formal application to the program "Accompanied driving at 17" by the accompanying persons: 1. A (front and rear) copy of the accompanying persons' ID cards 2. A (front and rear) copy of the accompanying persons' driving licenses 3. A signed declaration of the accompanying persons agreeing to participate in the program by the parents: 1. A declaration of consent